HVAC ducting - uses of inflatable ducts
W. Tombling Ltd.

Wembley House
Dozens Bank
West Pinchbeck
Spalding
Lincolnshire
PE11 3ND
U.K.

Telephone
+44 (0) 1775 640 049

Facsimile
+44 (0) 1775 640 050

Email
mail@tombling.com

Hvac ducting for warm, temperate and cold air
Activair hvac ducting is the most flexible and adaptable method of moving air from point to point, and distributing it where required. Activair hvac ducting has been used with warm, temperate and cold air in heating, ventilation and air conditioning systems for over 40 years.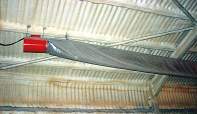 Activair hvac ducting is widely used in commercial and industrial ventilation, heating, air recirculation and humidification systems. It can be used with most ventilation fans, heaters, air conditioners, evaporative coolers and air handling units to provide uniform and draft free air distribution.
Hvac ducting for industrial ventilation
Industrial ventilation for health - Industrial ventilation systems are often used to limit worker exposure to airborne fumes and particles such as welding fumes, solvent vapours, oil mists and dust by removing contaminated air.

Industrial ventilation for comfort - Processes involving high air temperatures, radiant heat sources, high humidity, direct physical contact with hot objects, or strenuous physical activities can lead to heat stress or collapse. Such places include foundries, bakeries, commercial kitchens, laundries, chemical plants, and factories, workshops and warehouses in high ambient temperature areas.
Activair ventilation ducting is positioned overhead to direct fresh air towards workers, forcing contaminated and hot air away from them. Alternatively Activair ventilation ducts at floor level introduce temperate fresh air which slowly warms and rises, displacing the pollution and hot air.
Hvac ducting for industrial heating
Factory, workshop and warehouse heating - Hvac ducting distributes warm air evenly in large open ceiling factories, warehouses or workshops, preventing air stratification, pockets of hot or cold air, and reducing heating bills.

Constant air movement - Hvac ducting creates constant gentle air movement in warehouses and storage areas to prevent condensation forming on walls, ceilings or the stored product itself.


Activair hvac heating ducts suspended overhead force jets of warm air downwards where the air mixes with the denser cold air, creating a comfortable working environment. Heating bills are reduced because stratification, and temperature gradients are reduced, and condensation is eliminated.
Hvac ducting for industrial air conditioning
Industrial air conditioning - In the food industry air conditioning is used in food preparation areas and cold stores to create temperatures of 5 - 12C.

Spot cooling - Portable air conditioning systems cool machinery and finished goods.
Activair hvac ducting is used as air conditioning ducts with fixed central systems, to provide draft free cool air distribution. Or combined with portable air conditioners to provide spot cooling for machinery or work stations.
Hvac ducting an adaptable and flexible air distribution system
Activair polythene hvac ducting has been used for over 40 years, across a wide range of industries and applications, as an adaptable and flexible air distribution system.

For more information see: sizes of layflat ducting and designing an inflatable duct system
Click on the icon, for a printer friendly data sheet.
If you found this page useful, please take a moment
to tell a friend or colleague about it.
---
Copyright © 2003/6, W. Tombling Ltd.