W. Tombling Ltd.

Wembley House
Dozens Bank
West Pinchbeck
Spalding
Lincolnshire
PE11 3ND
U.K.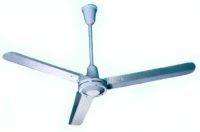 Ceiling fans can reduce heating bills
When air is heated, it becomes less dense and rises. As a result, warm air becomes trapped at ceiling level. Installing ceiling fans to push this warm air back towards floor level can reduce heating bills by up to 30%.

Ceiling fans reduce heating costs by:
Reducing heat loss through the roof and walls
Increasing the temperature at floor level, allowing thermostats to be turned down
Reducing the heat load required, permitting smaller heaters to be used

Ceiling fans are inexpensive to purchase and install, and use negligible amounts of energy (less than a standard light bulb per fan). In most cases, the reduction in heating bills is such that payback is achieved in less than a year.
Ceiling fans in industrial buildings
Ceiling fans are most effective in buildings with ceilings higher than 4.5m. They are widely used in industrial buildings such as factories, warehouses, workshops, etc. Slowly rotating ceiling fans return the hot air in the roof space to the occupied space below, providing draft free even air distribution of warm air throughout the workspace.
Ceiling fans improve summer working conditions
During the summer, ceiling fans run at high speed to create a cooling breeze, for occupants working below.
Activair ceiling fans
1400mm diameter steel fan blades painted white
Totally enclosed motors which are maintenance free, radio suppressed and suitable for continuous operation.
Vibration absorbant mounting
Speed controllable via electronic speed controller
Reversible airflow via electronic speed controller
TUV GS approved
Ceiling fan specification

Specification

Model
CF140
Impellor diameter
mm
1400
Downrod length(max/min)
mm
585/460
Supply voltage
V
230
Supply current
A
0.3
Supply frequency
Hz
50
Power
W
65
Maximum speed
RPM
270
Weight
Kg
6.5
Price ex. delivery & VAT
£89.00
Price inc delivery & VAT
Electronic speed controller for ceiling fans

Electronic ceiling fan speed controller to control upto 5 of our ceiling fans to reduce heating costs.
Forward - Off - Reverse switch
Control knob to set fan speed
Reversing of air flow for summer use
Surface mounted protected to IP51
Maximum peak current 1.7A

Ceiling fan speed controller specification

Specification

Model
HCFC1.7
Voltage
V
230
Maximum Current
A
1.7
Maximum Number of Fans
5
Dimensions
mm
108(w) x 108(h) x 60(d)
Weight
Kg
0.7
Protection
IP51
Price ex. delivery & VAT
£129.00
Price inc delivery & VAT
Determining the number of ceiling fans needed
Ceiling fans should be equally spaced throughout the room to ensure uniform air distribution. They should be installed at least 5m away from the walls.

The number of ceiling fans depends on the mounting height, (ceiling height less the length of the down rod). Use the following table to determine the number required:
Ceiling fan spacing vs. height

| | | | | | | |
| --- | --- | --- | --- | --- | --- | --- |
| Mounting Height | m | 4 | 6 | 8 | 10 | 12 |
| Distance Apart | m | 5 | 7 | 8 | 9 | 10 |
Safety restrictions
There must be at least 2.3m between the bottom of the fan blades and the floor. Ceiling fans should be installed so that they do not interfere with other equipment.
Ceiling fan and controllers - electricity supply requirements
Our ceiling fans and controllers require a 230V single phase 50Hz electricity supply. They are suitable for use in the UK, most of Europe, Eastern Europe and the Middle East, but not the USA.
Guarantee
Our ceiling fans and electronic controllers are manufactured to the highest standards, and we are confident that they are totally reliable. However, in the unlikely event a fault may occur, they have a full 1 year return to base parts and labour guarantee.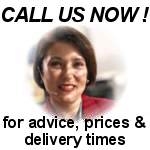 For more information or a quotation on our ceiling fans
Ceiling fans significantly reduce the running costs of all types of warm air heating, especially fan heaters and convectors. Installation and running costs are minimal, often leading to payback within a year. Consideration should be given to installing ceiling fans in any premises where the ceiling height is greater than 4.5m.

For more information contact our sales department or for a quotation click on the red quote buttons above.
If you found this page useful, please take a moment
to tell a friend or colleague about it.
---
Copyright © 2004/12, W. Tombling Ltd.