You are here:- home > heating index > radiant heaters > Mobile infra-red heater
Mobile infra-red heater
The BTQ3 mobile infra-red heater is lightweight and easy to manoeuvre with built-in wheels and a large carrying handle.
Two models are available to suit 230v or 110v applications:
BTQ3 - for 220V to 240V operation, supplied with a standard 13A UK plug BS 1363/A
A blue 16A 3 pin BS EN60309 plug can be fitted if required.
BTQ3-LV - for 110V use, supplied with a yellow 110v 32A 3 pin BS EN60309
Twin 1400w short wave infra-red tubes provide instant heat at the flick of a switch, wherever it is required:
Order preparation areas
Goods in and loading bays
Workshops and factory units
Trade counters and shops
Offices and reception areas
Key features
Perfect for cold or drafty environments – as it only heats objects and people not the surrounding air.
Powerful 2800w output –two individually switchable 1400w infra-red bulbs.
Safe – broad stable base, and automatic cut out if the heater falls on to its face.(230v model only)
Manoeuvrable –lightweight, built in handle and wheels.
Silent operation – no air flow or moving parts.
Tough – impact resistant casing with steel heater cassette and grill.
BTQ3 mobile infra-red heater

Specification

Model
BTQ3
BTQ3-LV
Output hi/lo
W
2800 / 1400
2800 / 1400
Voltage
V
220 - 240
110
Maximum phase current
A
12.2
25
Power cable length
m
3
3
Power cable type
Black 3G 1.5mm H07RN-F
Yellow 3G 4.0mm H07VV-F
Power connection
Standard 13A UK plug
(optional BS EN60309 16A 3 pin)
32A 110v 3 pin plug
(BS EN60309)
IP Rating
20
20
Operating temperature
C
-20 to +40
-20 to +40
Weight
kg
14.3
14.3
Width
mm
500
500
Height
mm
1000
1000
Depth
mm
470
470
Colour
Black / Orange
Black / Orange
IR bulb type
LHW348-230-1400R7S/H
LHW348-110-1400R7S/H
Price ex. delivery & VAT
£199.00
£199.00
Price inc. delivery & VAT
BTQ3 mobile infra-red heater - approval
The BTQ3 mobile infra-red heater is CE marked.
Replacement IR Bulbs
Like an ordinary light bulb, the IR bulbs in infrared heaters will eventually fail through age. Or shatter if the heater is knocked over, or water is splashed on them while hot. Replacement bulbs can be purchased from us by clicking on the link below.
Replacement IR bulbs
230v Replacement IR bulb
for BTQ3
LHW348-230-1400R7S/H
110v Replacement IR bulb
for BTQ3-LV
LHW348-110-1400R7S/H
Note: These bulbs are specifically for our BTQ3. We do not know if they will fit other infrared heaters. Customers looking for bulbs for other heaters should contact their original supplier.
Electricity supply requirements for BTQ3 mobile radiant heater
The BTQ3 is designed for connection to a 230V 50Hz electricity supply. It is suitable for use in the UK, Europe and most of the Middle East. However, if you intend to use it outside of the UK, please confirm with sales your electricity supply will be suitable before ordering.
The BTQ3 is supplied with a 3m power cable fitted with a standard 13A UK plug (BS1363). The plug can be replaced with a BS EN60309 16A 3 pin industrial plug if required.
The BTQ3-LV is designed for 110v operation in premises where the use of portable 230v equipment is prohibited. It is fitted with a yellow 32A 3 pin BS EN60309 plug.
Please note the BTQ3-LV requires a 32A transformer or socket, it will not work with the smaller, more common 16A outlets. If you require a 32A transformer, please click for a quote on the 3000VA transformer below:
Accessories for BTQ3-LV 110v heater
3000VA continuous rated
vented heater transformer
230V input - 110V out via
1 x 32A and 1 x 16A outlet.
14m extension lead
110V extension lead, 32A plug to 32A socket.
1 year guarantee
Activair BTQ3 mobile infrared radiant heaters are manufactured to the highest standards, and we are confident that they are completely reliable. However, in the unlikely event a fault may occur, they have a 1 year return to base parts and labour guarantee.
Please note, the guarantee excludes the glass IR bulbs, as these are consumable items, which will fail during normal use.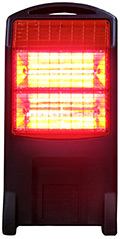 The BTQ3 is a fully mobile infra-red radiant heater that instantly produces heat at the flick of a switch.
It is ideal for use in the coldest and draughtiest environments because it only heats objects and people, not the surrounding air.
Related Products
You are here:- home > heating index > radiant heaters > mobile infra-red heater

If you found this page useful, please take a moment
to tell a friend or colleague about it.
---
Copyright © 2005/10, W. Tombling Ltd.