W. Tombling Ltd.

Wembley House
Dozens Bank
West Pinchbeck
Spalding
Lincolnshire
PE11 3ND
U.K.

Telephone
+44 (0) 1775 640 049

Facsimile
+44 (0) 1775 640 050

Email
mail@tombling.com


You are here:- home > heater index > Ace overhead fan heater
Ace overhead fan heaters
Ace overhead fan heaters are designed for mounting in the roof spaces of large tall commercial and industrial buildings. Modern air tight construction methods, combined with high levels of insulation mean these high volume buildings don't require heaters with big outputs, but do need high airflows to efficiently distribute heat throughout the building.
Ace fan heaters have powerful fans which throw warm air up to 15m (49ft). Where this is not sufficient polythene ducting can be attached to distribute warm air up to 45m (150ft.).
Ace fan heaters are intended for use in large factories, workshops, warehouses, etc. Because of the noise produced by the fan and air passing through the heater they are not suitable for use in small buildings, buildings with low ceilings, or where a continuous loud noise would be intrusive. In such cases use our wall mounted fan heaters instead.
Ace fan heaters are available with either 10kW or 20kW outputs, for use with 400V 3 phase electricity supplies.
Heavy duty heating
The Ace fan heater is a heavy duty unit designed for use in the toughest environments. Its case is fabricated from steel, finished in pastel beige (RAL7032) scratch and corrosion resistant polyester powder paint. Zinc plated steel finger guards are fitted to the inlet and outlet.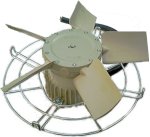 The fan motor is efficient, lightweight and robust. It is totally enclosed and sealed for life. The impeller blades are made from high quality GRP, fitted to die cast aluminium hubs, coated in polyester powder paint. They are factory set and balanced for maximum efficiency.
Ducting options
The Ace fan heater can be used free blowing or with:

Polythene ducting - to distribute warm air upto 40m (131 ft.)
Flexible ducting - to direct hot air into difficult to reach areas, such as inspection pits, storage tanks etc.
Metal ducting - to heat individual zones, i.e. workstations.

See Ace fan heater accessories for further details.
Mounting options
The Ace fan heater is designed to be suspended overhead by chains or wire rope, and is supplied with four suspension eyes. Optional brackets are available which allow the heater to be suspended using 8mm threaded rods, see accessories for details.
Over heat protection
For complete safety Ace fan heaters are fitted with two over heat cutouts, in the fan motor and adjacent to the element assembly. The cutouts automatically reset once the temperature falls to a safe level.
Ace overhead fan heater specification

Specification

Model
ACE 10
ACE 20
Element Rating
kW
10
20
Element Voltage
V
400
Element Phase
3+N
Element Phase Current
A
14
28
Motor Rating
W
244
Motor F.L.C
A
1.08
Motor S.C.C
A
2.3
Maximum Ambient Temp.
C
30
Air Volume 0 pa
M3/hr
3935

Noise
dBa
48
Minimum mounting height
M
3.5
Temperature Lift 0 pa
C
8
16
Throw
M
15
Weight
Kg
25
Case colour
Pastel Beige (RAL7032)
IP Rating
20
Dimensions
Click here
Suspension Eye
Internal Diameter
mm
14
Price ex. delivery & VAT
£899.99
£949.99
Price inc. delivery & VAT
External controls
The Activair Ace heater requires external control equipment. It can be controlled by thermostat, humidistat, or electronic building controls, see controlling Ace electric fan heaters for more information.

Our basic control panel is enclosed in a IP66 steel case, with a door interlocked isolator. Inside it has an mcb for the fan motor, element contactor, and indicator lights for the fan and elements.
The twin heater panel is fitted with separate element mcbs for each heater.
A Heatmiser IQ controller allows for seperate day and night temperatures, and different on/off patterns to be set for each day. Note the IQ is rated IP20, and must not be used in wet or very damp environments.
1st January 2018 - Ecodesign Directive (Lot 21 - warm air heating)
In order to comply with the Ecodesign Directive 2009/125/EU from the 1st January 2018 Ace electrical fan heaters can only be purchased with one of our matching control panels.
The directive also appies when replacing existing products, so replacement heaters can only be supplied without control panels where customers can demonstrate their control gear meets the new minimum requirements.
Basic control panel and thermostat
Single heater
Panel and Heatmiser IQ
Price ex delivery and VAT £699.00
Twin heater
Panel and Heatmiser IQ
Price ex delivery and VAT £999.00
Click on the icon, for a printer friendly data sheet.
Choosing the correct size of heater
Before selecting a fan heater it is important to carry out a heat loss calculation to determine the size required. See heater size calculations, or use our on-line calculator.
Electricity supply requirements for the Activair Ace electric heaters
The Ace electric heater is designed for use with 400V 3 phase 50Hz supplies. It's suitable for use in the UK, most of Europe, Eastern Europe and the Middle East, but not the USA.
1 year guarantee
We have been manufacturing the Ace fan heater for over 40 years, it is built to the highest standards, and we are confident that it is completely reliable. However, in the unlikely event a fault may occur, it has a full 1 year parts and labour guarantee.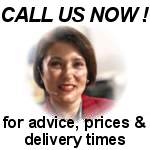 For more information or a quotation
The Ace fan heater is a heavy duty unit designed for years of trouble free heating. It's high volume fan produces exceptional heat distribution, and reduces the need for destratification fans, making it ideal for commercial premises such as factories and warehouses.

For more details contact our sales department or for a quotation click the red quote buttons in the table above.


You are here:- home > heater index > Ace overhead fan heater


If you found this page useful, please take a moment
to tell a friend or colleague about it.
---
Copyright © 2004/18, W. Tombling Ltd.