THIS PAGE APPLIES ONLY TO THE ACTIVAIR ACE FAN HEATER
Element control
The elements may be controlled either:
ON/OFF using a electromechanical relay (contactor)

PHASE ANGLE control using electronic switching.

Element currents

| | | | | | |
| --- | --- | --- | --- | --- | --- |
| Heater size | kW | 6 | 10 | 13.2 | 20 |
| Single phase (240V) | A | 25 | 42 | 55 | 84 |
| Three phase (415V) | A | | 14 | | 28 |
Element current per phase for different models is given in the table opposite, whatever control method is chosen it must be current rated correctly.
Fan motor control
Speed control MUST NOT be used.
The fan motor may be switched on/off with the element assembly, or run continuously. Some systems incorporate an additional relay to:
start the fan before the switching the elements on. This is useful in high humidity environments where moisture build up on the element ceramics may cause nuisance tripping of the element mcb.

run the fan for a short period after the element switches off to purge residual heat, extending the elements lifespan.
The fan motor in all models (including 3phase heaters) is 240V, single phase, 50Hz. 1.8A full load current.

Operation of fan motor overload or over current protective circuits MUST disconnect the elements.

Safety overheat cutout
Each Activair ACE fan heater is fitted with a safety overheat cutout. Under normal conditions the contacts are closed, if the temperature within the heater exceeds safe working conditions the contacts will open. Once the temperature has fallen the cutout will automatically reset.

The cutout is rated 4A (resistive) at 240V. Operation of the cutout should immediately shut down the elements AND fan.

Isolation
Activair fan heaters MUST be isolated by a suitable 1ph+N or 3ph+N isolator.

Earth
Activair fan heaters MUST BE earthed.

Terminal connections
For 3 phase Activair electric fan heater: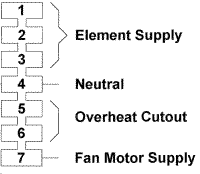 In single phase heaters terminals 2 and 3 are omitted.

Circuit diagram
click for circuit diagram

This example illustrates a basic wiring design for a single 3 phase electrical fan heater. It can be expanded on in several ways:
Incorporate a time switch in series with the thermostat.
Add a fan overrun relay to purge excess heat
Replace the contactor with an electronic device. Note the fan will have to be controlled separately.
Add fan motor overload protection. Note because the fan motor is less than 250W, in the UK overload protection is optional.
Activair control panels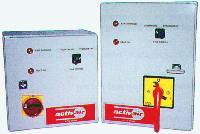 To simplify and speed up the installation of Activair ACE fan heaters we supply a range of off the shelf control panels. Each one contains all the electrical switchgear necessary for our heaters. Activair control panels feature:
Rugged steel enclosure
Isolator fitted with door interlock
Element contactor
Element over current protection (optional)
Fan motor over current protection
Fan mode switch - continuous operation or switch with elements
Visual indication of fan running and elements on
The only external item required is a suitable thermostat, humidisat or time switch.

Control device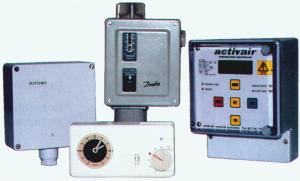 Activair ACE fan heaters are compatible with a wide range of thermostats, time switches and environmental controllers.

Activair manufactures electronic programmable thermostats specifically designed for use in harsh industrial environments, all of which are suitable for use with our heaters.

In addition we also supply a range of thermostats, humidistats and time switches from other manufacturers.
---
Copyright © 2002/6, W. Tombling Ltd.