W. Tombling Ltd.

Wembley House
Dozens Bank
West Pinchbeck
Spalding
Lincolnshire
PE11 3ND
U.K.

Telephone
+44 (0) 1775 640 049

Facsimile
+44 (0) 1775 640 050

Email
mail@tombling.com
Every Activair ACE electrical fan heater has a high volume fan that efficiently recirculates large quantities of air. However there are situations where air mixing can be improved and running costs reduced with the addition of ducting:
where there are physical restrictions to natural airflow - i.e. high racking in warehouses.

where warm air must be directed into specific areas - loading bays etc.

where natural air movement acts against efficient warm air distribution.
By combining perforated polythene ducting, flexible ducting or metal ducting with an Activair fan heater, warm air can be directed exactly where it is needed.

The fans used in every Activair Ace fan heater is designed for ducted operation without modification.

Activair fan heater & polythene ducting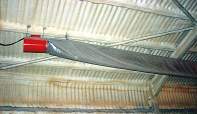 Single lengths of up to 30.5m (100ft) can be connected directly to the air outlet, use 27" layflat polythene ducting. Alternatively metal and polythene ducting can be combined to produce multiple duct systems. Air stratification can be reduced by blowing warm air downwards. See ducting home page for more details. NB. Polythene ducting must only be used on the air outlet!

Fan heater & flexible ducting

Can be used on both air inlet and outlet. The grilles must be removed and replaced with a matching flange. Used on building sites to bring in fresh air from outside, and to feed warm air into storage tanks for drying. Use 400mm diameter ducts. See flexible ducting for details.

Fan heater and metal ducting
Activair fan heaters can be directly connected to existing metal ducting providing the system back pressure does not exceed 0.5" water gauge. We supply galvanised tee's, elbows and spiral ductwork, in a range of sizes for use with our heaters. For direct connection use 400mm diameter and a matching flange. See metal ductwork for details.



---
Copyright © 2002/6, W. Tombling Ltd.