We had a bad experience with polythene ducting supplied by your competitors, it kept splitting and one end of our factory hotter than the other. We were convinced polythene ducting didn't work!

We found you on the web and decided to give you a try. The difference is remarkable, the temperature in our factory is consistent and the ducts shows no sign of splitting...

We will certainly use you again.

Mr. L.H.E – UK
What is polythene ducting
Polythene ducting is the most economic and efficient method of distributing warm and cold air. A typical polythene ducting system consists of one or more inflatable polythene ducts suspended overhead from steel wires. Rows of small holes in the sides of the ducts produce jets of air, with enough throw to create continuous gentle air movement throughout the building.

Polythene ducting is compatible with most fans, heaters, air conditioners, air handling units, etc. Its adaptability and very low cost make it suitable for use as heating, cooling or ventilation ducting in a wide range of buildings and industries.
The Activair polythene ducting system
Inflatable polythene ducting has been used in commercial glasshouses since the early 1950s. In 1956 Activair patented a system that greatly improved its performance.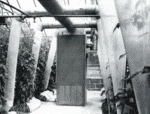 Before this polythene ducting was manufactured with holes equally spaced along its length. This led to poor air distribution and temperature gradients. Unfortunately, many suppliers still use this method today

The Activair system changes the spacing between the holes in the polythene ducting - they are close together at the air inlet and gradually become further apart. This produces uniform air distribution along the entire length of the ducting, eliminating temperature gradients and stagnant pockets of air.

Every Activair duct is individually designed and manufactured using our unique system. As a result, Activair high performance polythene ducting can be used as an alternative to metal ductwork, fabric ducting and textile ducting.

Activair polythene ducting is often retro-fitted to existing air distribution systems to improve their performance. It is used in factories, warehouses, gymnasiums, food preparation areas, etc. In fact anywhere where reliable, efficient and draft free air distribution is required.
40 years of experience with polythene ducting
We have been supplying inflatable polythene ducting for over 40 years. Thousands of Activair polythene ducting systems have been successfully designed and installed providing air distribution for heating, ventilation and air conditioning systems in a wide range of buildings, environmental conditions and applications.
For more information on Activair polythene ducting or a quotation
The Activair inflatable polythene ducting system is an economic, reliable and efficient method of air distribution. For more information see the benefits of polythene air ducts, and the use of polythene ducts as air conditioning ducts or heating ducts

Click here for a no obligation quotation for Activair inflatable polythene ducting
Click on the icon, for a printer friendly data sheet.
If you found this page useful, please take a moment
to tell a friend or colleague about it.
---
Copyright © 2003/6, W. Tombling Ltd.