W. Tombling Ltd.

Wembley House
Dozens Bank
West Pinchbeck
Spalding
Lincolnshire
PE11 3ND
U.K.

Telephone
+44 (0) 1775 640 049

Facsimile
+44 (0) 1775 640 050

Email
mail@tombling.com


Heating ducts for commercial buildings
Activair heating ducts are the most adaptable and efficient method of distributing and diffusing warm air. Activair heating ducts are compatible with most warm air heaters and air handling systems, and are used in place of metal ductwork to improve air distribution and reduce temperature gradients.


Activair heating ducts are designed for use in buildings with large open roof spaces, as found in factories, warehouses, workshops etc. They are suspended overhead from thin steel wires. Holes in the sides of the ducts create jets of warm air, which are directed downwards, where they mix with the cold air below eradicating temperature gradients and producing uniform temperatures.

Activair heating ducts reduce energy bills
Activair heating ducts help to reduce heating bills in several ways:

Reduced heat loss through the roof - By creating air movement throughout the building, temperatures in the roof space are reduced, which in turn lowers the heat loss through it.

Reduced stratification - Thermostats can be set to a lower level. Constant air mixing reduces the build up of pockets of cold air and stratification, creating a uniform temperature throughout the building.

Reduced condensation - Improved air distribution, prevents layers of cold air and condensation forming on walls, doors, windows, shelves, etc.

Spot heating - Holes in the heating ducts are placed only where needed, heating occupied areas without wasting energy on storage areas, loading bays, etc.
For a modern building with 5m (16ft.) eaves savings of upto 10% per annum are possible leading to payback is less than two years. Because of air stratification, savings increase with the height of the building.

Activair heating ducts are suitable for use in most buildings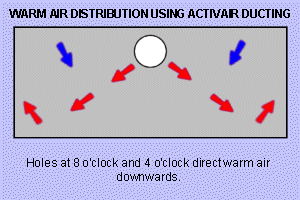 Wide buildings - one or more heating ducts are suspended overhead on lightweight steel wires. The heating ducts have rows of large diameter holes positioned at 4 and 8 o'clock (or 5 and 7 o'clock) forcing powerful jets of warm air towards floor level.

Narrow buildings or low level ducts - More smaller holes are used, positioned at 3 and 9 o'clock to create a gentler diffused air discharge. This reduces the air velocity, stopping strong jets of warm air coming in contact with the workforce.

For more information on Activair heating ducts
Activair heating ducts have been used for over 40 years in many different sizes, shapes and types of building to reduce heating bills and improve the comfort of their occupants. For more information see:

Designing an inflatable duct system
Installing Activair air ducts
Polythene ducting sizes and quotations


If you found this page useful, please take a moment
to tell a friend or colleague about it.
---
Copyright © 2003/6, W. Tombling Ltd.