Polythene ducting in glasshouses
W. Tombling Ltd.

Wembley House
Dozens Bank
West Pinchbeck
Spalding
Lincolnshire
PE11 3ND
U.K.

Telephone
+44 (0) 1775 640 049

Facsimile
+44 (0) 1775 640 050

Email
mail@tombling.com


Polythene ducting in glasshouses and polytunnels
Activair polythene ducting is an economical and adaptable method of distributing warm or cold air in commercial glasshouses and polytunnels. Polythene ducting helps to reduce temperature variations, improve quality and yield, and cut heating bills.


Activair polythene ducting has small holes cut into its sides, that distribute air as a series of jets. These jets mix with the air already in the glasshouse, preventing temperature gradients from forming, which encourages even plant growth and allows thermostats to be turned down.
The advantages of polythene ducting
Activair polythene ducting is lightweight - glasshouse and polytunnel structures don't need strengthening to take it's weight. To speed up installation our duct kits contain everything needed to suspend one Activair polythene duct.

Polythene ducting is very inexpensive, and is quickly replaced to allow for the requirements of different crops, for hygiene reasons, or if it becomes damaged.
Polythene ducting - adaptable air distribution
Activair polythene ducting is compatible with most horticultural warm air heaters, and ventilation fans. It is used to distribute warm and cold air in glasshouses and polytunnels, for heating, frost protection and ventilation.

Activair polythene ducting can be suspended overhead, run under benching or laid between rows of plants.
Polythene ducting in a glasshouse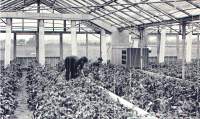 The picture illustrates a high level Activair polythene ducting system designed to meet the specific requirements of glasshouse crops (in this case tomatoes), using an oil fired warm air heater.

The heater feeds warm air to a galvanised steel manifold shaped to follow the roofline. From the manifold, the air is fed through plain polythene ducting (no holes) to galvanised metal elbows on the glasshouse floor. Perforated polythene ducting then distributes the air between the plants throughout the glasshouse.

During the summer, the system distributes cool air through the crop, providing air movement which is essential for healthy plants.

For lettuce plants, the drop down ducts are shortened, so the galvanised elbows are approximately 3ft. above ground level. The perforated distribution ducts are rotated so that the perforations are facing downwards, so that the warm air is gently discharged onto and around the plants below.

For chrysanthemums and similar plants, the drop down ducts are removed and the elbows fitted directly onto the manifold outlets. The polythene ducting is again positioned with the perforations facing downwards to discharge the air onto the blooms.
For more information about polythene ducting or a quotation
Activair has been supplying polythene ducting for use in glasshouses and polytunnels since the 1950's. Our polythene ducting reduces temperature gradients, and so improves plant quality, yields and profitability.

For a free no obligation free quotation click on the link - Activair polythene layflat ducting

Or click these links to find out more about the advantages of polythene ducting and designing a duct system


If you found this page useful, please take a moment
to tell a friend or colleague about it.
---
Copyright © 2003/6, W. Tombling Ltd.