Layflat width - measured from edge to edge while the duct is deflated.

L/F = 1/2 x circumference

Inflated diameter - measured with the duct fully inflated.

Diameter = 7/11 x layflat

Plain layflat duct - no holes - for conveying air from point to point.

Perforated layflat duct - holes along each side - to distribute air.
Activair layflat ducting
Activair layflat ducting is manufactured from lightweight polythene tubing, compounded to our own special formula for maximum elasticity, flexibility, toughness, and resistance to splitting and tearing.

Activair layflat ducting is unaffected by moisture and most chemicals. It is resistant to bacterial and fungal growth, and is suitable for use in food preparation areas.

Activair layflat ducts are translucent. The layflat ducts are off-white, although the colour varies with lighting conditions and background colours. The Activair logo and website address are printed in black on one side.
Air temperature for Activair layflat ducting
Activair layflat ducts are designed for use with internal air temperatures between 5 and 65C ( 41 to 150F).
Activair inflatable ducting - duct lengths
Plain layflat ducts. Used to convey air from point to point, for instance between sections of metal ductwork i.e. tee-pieces, elbows, spiral ductwork etc.

Length - no minimum. Maximum limited only by roll size and weight
Perforated layflat ducts. For efficient draft free air distribution.

Length - no minimum. Maximum 30.5m (100ft.)
Longer ducts are available but lateral temperature control cannot be guaranteed -
Try to redesign the duct system using shorter ducts.
Activair inflatable layflat ducting - stock sizes
Layflat Width
Inflated Diameter
Thickness
Request quote
In.
mm
In.
mm
Gauge
mm
Plain
Perforated
10
250
6.36
159
250
0.063
14
350
8.875
221
500
0.127
16
400
10.25
256
500
0.127
20
500
12.75
318
500
0.127
24
600
15.25
381
500
0.127
27
675
17.12
428
500
0.127
30
750
19.12
478
500
0.127
36
900
22.87
571
500
0.127
Accessories for Activair layflat ducts
Duct kits for suspending Activair layflat ducting. One duct kit is required per layflat duct.
Activair duct kits

| | | |
| --- | --- | --- |
| Duct Kit A | For ducts upto 75ft. (23m) | |
| Duct Kit B | For ducts upto 150ft. (46m) | |
Metal ductwork 'tee-pieces', spiral tubing, elbows, reducers and air flow straighteners.

Axial fans A range of industrial axial fans, specially designed for use with Activair layflat ducting.
Quotations for Activair layflat ducting
To ensure orders are processed and dispatched quickly we hold large stocks of raw materials at our UK factory.

For optimum performance every layflat duct is individually designed and manufactured using the unique Activair polythene ducting system. The layflat ducts are supplied cut to length, and ready for installation.

Because Activair polythene layflat ducting is so light, it can be economically delivered direct from the factory, worldwide within a few days, using express freight carriers.

Before requesting a quotation please ensure you have the following information ready: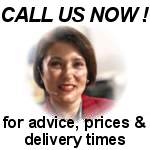 1) Number of layflat ducts required
2) Length of each duct
3) Diameter or layflat width of each duct
4) Whether the ducts should be supplied 'plain' or 'perforated'

For a free no obligation quotation, click on the red 'quote' buttons, or download a quotation request.
For more information on Activair layflat ducts
What is polythene ducting ?
Why use polythene air ducts ?
Designing an inflatable duct system

Click on the icon, for a printer friendly data sheet.
If you found this page useful, please take a moment
to tell a friend or colleague about it.
---
Copyright © 2003/6, W. Tombling Ltd.