Polythene air conditioning ducts
W. Tombling Ltd.

Wembley House
Dozens Bank
West Pinchbeck
Spalding
Lincolnshire
PE11 3ND
U.K.

Telephone
+44 (0) 1775 640 049

Facsimile
+44 (0) 1775 640 050

Email
mail@tombling.com


Air conditioning ducts
Activair air conditioning ducts are the most cost effective and efficient method of conveying cold air from point to point, and distributing it where its needed. Activair air conditioning ducts are manufactured from lightweight polythene, and are compatible with most air conditioners, evaporative coolers and fans.

Activair air conditioning ducting is used to:

Improve cold air distribution - Without air conditioning ducting the effect of a fan, air conditioner or cooler is limited to a small area immediately in front of the air outlet. Attaching ducting allows the cold air to be directed to specific 'hot spots' to provide localised cooling, or diffused over a wide area to reduce temperature gradients.

Reduce air velocity - reduced air speed stops cold drafts, and lowers noise levels.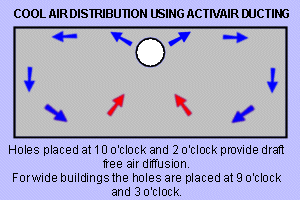 Overhead air conditioning ducts
Activair air conditioning ducts are usually suspended overhead from steel wires. Rows of small holes in the sides of the ducts produce jets of cold air that mix with the warmer room air before falling to floor level. Leading to draft free air movement throughout the building and reduced temperatures.
Air conditioning ducts in very hot environments
In very hot environments, such as foundries, commercial laundries, bakeries, etc. the holes are moved to 4 and 8 o'clock. The jets of cold air are now directed downwards, displacing hot air which is forced up and away from floor level. By using numerous small jets the air velocity is kept low, ensuring the workforce do not complain of uncomfortable cold drafts.
Air conditioning ducting for spot cooling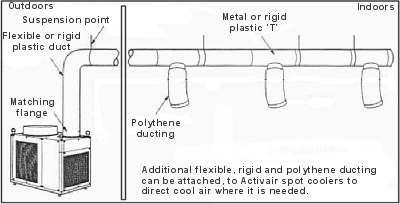 Sections of plain and perforated air conditioning ducting can be connected to portable air conditioning units to provide spot cooling. This is very popular where cooling a large area is uneconomic or unnecessary. Cold air is discharged precisely where needed, keeping energy costs low.
For more information on Activair air conditioning ducting
Activair air conditioning ducts have been successfully installed in factories, workshops, gymnasiums, etc. to provide efficient cold air distribution for more information see:

Designing an inflatable duct system
Installing Activair air ducts
Polythene ducting sizes and quotations


Click on the icon, for a printer friendly data sheet.
If you found this page useful, please take a moment
to tell a friend or colleague about it.
---
Copyright © 2003/6, W. Tombling Ltd.